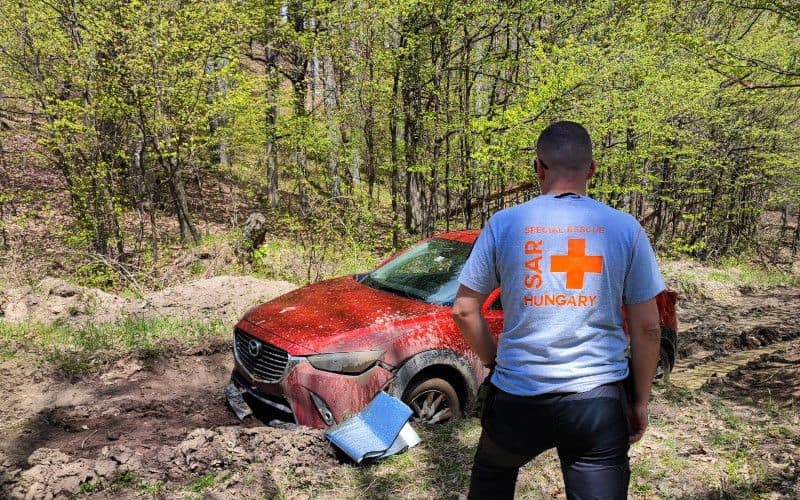 ---
---
On Sunday, the Börzsöny Mountain Rescue Service was present throughout the day with a significant number of personnel at various points in the Börzsöny Mountains to assist the Runaway event, a running race. Fortunately, none of the runners suffered any accidents that required our assistance. However, in the morning, we were alerted to a traffic accident by the National Ambulance Service. According to the report, an elderly woman had driven her vehicle into a stream on a forest road and they requested our help in locating and treating her.

The location given was imprecise, but one of our mountain rescue units, along with the National Ambulance Service emergency vehicle and the Pest County Police patrol, began searching for the site of the accident. The police patrol first found the woman after driving along the dirt road towards Hangyásbérc and walking a further kilometer in the mud to Kálmán Meadow. When our mountain rescue team arrived at the scene, they transported the National Ambulance Service personnel to the accident site by off-road vehicle and, after the medics treated the injured woman, they took her to the ambulance.

The very elderly woman explained that she had originally wanted to go from Szokolya to Kecskemét, but had started in completely the wrong direction. She drove through the open gate at the Szénpatak barrier, which had been left open for the running race, and continued on the forestier road in the high Börzsöny Mountains. Along the way, several parts of the car fell off, and when she drove into a very deep wheel rut at Kálmán Meadow, the car completely stopped.

The mountain rescuers ensured that the woman was taken to the ambulance and the National Ambulance Service transported her to the hospital for further examination.

The damaged vehicle was successfully freed and taken to the Szénpatak chalet, from where the owner will arrange for its transport.

This was the third car accident in which our mountain rescue team intervened in the Börzsöny Mountains this year. In March, an unauthorized car drove onto Nagy-hideg Mountain and overturned in a ditch, and in April, a logging truck overturned on its side on the Hangyásbérc dirt road.
---
We are volunteers in a non-profit organisation. Be cool and support our work as you can
---
---
---
---
---
---
---
---
---
---
---